Metamorphose Lucky Pack Dress (07? not sure??) - $OLDInnocent World BxW Polka Dot Fully Shirred 3 Tiered JSK - $100
This dress used to be 1) rarely and 2) considerably more costly due to it being an INNOCENT WORLD that fit plus sied girls. It boasts IW's famous full shirring which many will say goes rather high (I've heard 110-120cm), though I have never pushed it nearly to it's limit (I was 46-36-46 for reference). 30" seems to be about the minimum waist, up to at least 40". The bust got to 48" at least, probably 50", though it is hard to measure by yourself. It measures about 32" from top lace to bottom, and features two types of beautiful white cluny lace. The straps button in at the back, so it can be worn as a halter, or normally, and it is another dress that is good for taller girls because of how adjustable it is. I'm sorry for the poor photos but I wanted to include the one that more clearly showed the two detachable bows that still come with it, and the detachable waist ties that are also intact.
Black Three Tiered Bustle Skirt - SOLDMetamorphose Red Teddy Patissierie skirt ALTERED-Overskirt - $60
I picked up this skirt with a max waist size of 32" and had it altered into an overskirt (which, I think, looks smashing over a black overskirt). The skirt originally had waist ties anyway, so they were incorporated as the ties in the back with the waistband being replaced by fabric of the exact same color (but with no print). As an overskirt it is truly freesize, but as mentioned any waist under 30 will overlap in the back. The alteration was carefully done, with parts of the back being removed to make a curved skirt closure (instead of just cutting it i na straight line and leaving it) so it DOES look like it's meant as an overskirt. As you can see in the photo with the tape, it comes with detachable bows as well, one larger one and one smaller one. It is about 21" long but of course could be worn at almost any position you prefer on your torso :P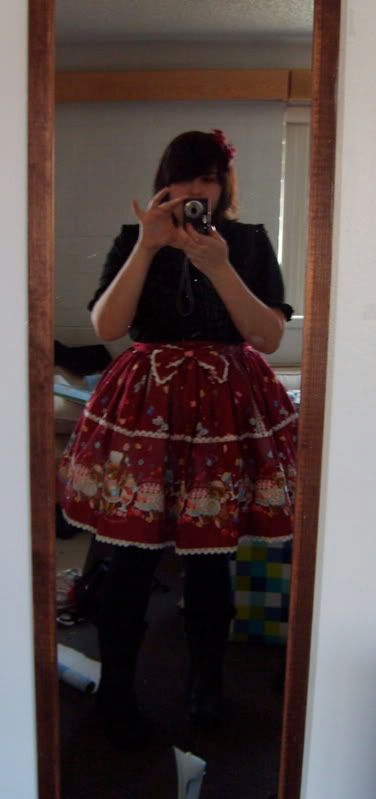 I Don't really want to let that go for cheap because It's going to be one of the last things I have left... willing to for the price listed since really i need money and the IW is an item I am not into wearing anymore/have no coordinating items
I obviously take paypal and pretty much only paypal and I'd prefer to ship within the US. within US shipping should only be $10 and that's priority. I am not willing to accept any trades unless they are a straight trade (I'm not paying YOU!) and it's a decent jsk/dress or perhaps a blouse but I doubt I'll find any I want. I have lost some weight and am still losing so I am not looking to acquire more clothes that will be too big.